At the beginning of 2020, the COVID-19 was raging, and the demand for masks as essential materials for epidemic prevention and protection has surged. Facing the continuous epidemic, Qingdao Yishibao Plastic Co., Ltd. used the technical advantages of the polypropylene expert workstation supported by Qingdao University of Science and Technology to develop and produce special materials for meltblown non-woven polypropylene that were urgently needed for masks.
  After learning about the shortage of special meltblown non-woven polypropylene materials in the market, the company felt that it should do its part and social responsibility for epidemic prevention. Since the beginning of February, a scientific research team has been organized to focus on research, and successfully developed special materials for meltblown non-woven polypropylene, completed process transformation, realized mass production, and exerted scientific and technological strength to help epidemic prevention and control.
  Our self-developed special meltblown non-woven polypropylene material has excellent characteristics such as low odor, high fluidity, narrow molecular weight distribution, extremely low ash content, long screen change cycle, and stable color. Meet the requirements of medical masks for the hygiene, environmental protection and processability of special meltblown non-woven polypropylene materials, and reach the technical specifications of well-known domestic and foreign manufacturers.
  During the epidemic, Qingdao Yishibao took advantage of its research and development advantages and successively developed: special meltblown material for mask polypropylene, water electret masterbatch, ordinary electret masterbatch, polypropylene meltblown non-woven fabric, etc. Meet the urgent needs of the epidemic area, and realize the help of science and technology to fight the epidemic. Anti-epidemic products are sold to Jiangsu, Hebei, Shandong, and export to Japan, South Korea and other countries.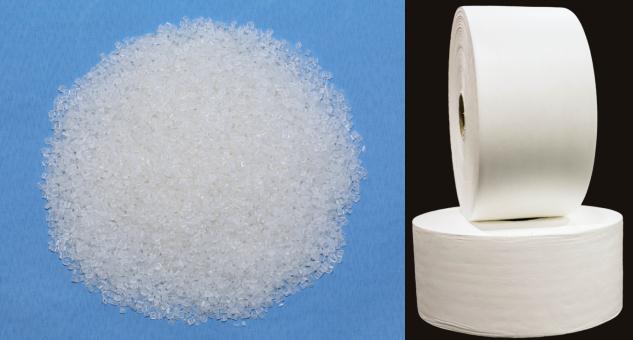 The company is rushing to produce at full speed, and is making every effort to promote product market supply. It is incumbent on Qingdao Yishibao to do its part for the country and society, and to contribute to the prevention and control of this epidemic and human health! Holding hands together and fighting the epidemic together, we will surely win!
  At present, our company has been continuously supplying polypropylene special meltblown materials to many well-known mask manufacturers in China. The product quality is stable and has won unanimous recognition from customers.
  Product advantages:
  Melt Blown material:
  1. The meltblown cloth, which is sprayed out by using Qingdao Yishibao Plastic Co., Ltd. melt blown material after adding Qingdao Yishibao electret masterbatch, after treating with corona, the filtration efficiency is above 95%, effectively blocking droplets, dust, viruses, etc. below micrometers.At the same time, the filter has a long-term effect of more than 1 year, high charge retention rate and good stability.
  2. The sprayed cloth is soft, not brittle, and flexible.
  3. Complete third-party testing qualifications: stable melt index (1400-1600g/10imn), can provide: reach-205 items, melt index, ash, volatile matter, molecular weight distribution, peroxide residue, FDA SGS test report. Polypropylene meltblown special material has stable high fluidity, environmental protection, narrow molecular weight distribution, low ash content, no other product residues, excellent spinning performance and other excellent characteristics. Meet the various standards for the number of fibers and surface area of the core unit area of medical masks.
  Electret masterbatch:
  ⊙The filtration efficiency can easily reach more than 95% (addition amount is 2%-5% (mass fraction); when the equipment and process are in good condition, the filtration efficiency can easily reach more than 99%)
  ⊙Long-lasting charge retention (The melt blown cloth can be stored on shelves more than 3 years)
  ⊙Oil, 95L/min flow rate, double-layer detection, filtration efficiency can reach more than 95%
  ⊙No need to change the meltblown material production process parameters (the melting index is between 1200-1600)
  ⊙Washing without power loss (use with our melt blown material, soak in water for more than half an hour, the charge will not attenuate)
key words:medical plastics application,China medical plastics application,